Women's Empowerment Circles
with Hope McGrath
A gathering of girlfriends for the soul purpose of enriching our lives with inspiration, clarity, deepening relationships, goal attainment and nurturing a solid support system
Women's Empowerment Circles bring together female friends and invite opportunities for deep connections and open dialogue about pressing issues in women's lives today. As an intimate circle of women, we then discover tangible ways that we can support one another in real life….whether it be within our love relationships, career, motherhood, family & friendships, health and wellness, dreams, goals or just about any other topic that women care about. We really do cover it all… over time.
Do you feel like you barely get to see your friends to have real talk?
Do you desire to make changes in your life and would like to feel supported in a sacred, safe circle of women?
Are you ready to nurture enriching relationships with women because you can stand to expand your friendship circles?
Want to get inspired and gain real support by women you can respect and admire?
Do you know wonderful ladies but don't go beyond the surface with them and have a desire to deepen those relationships?
If you can relate....then gather a group of girls and let's start an exclusive VIP Women's Empowerment Circle.
The Women's Empowerment Circle is like a Tupperware party for the modern women yet instead of buying containers, you are enriching one each other's lives, gaining personal insights on the most vital issues to you and nurturing deep connections with like-minded women.
In order to keep these Women's Empowerment Circles intimate and to have powerful breakthroughs in an effective time-frame, it is best when women know one another or invite friends of friends. Each Circle, made up of 8 to 12 women will have an insider, exclusive vibe and Hope McGrath will act as the facilitator. One must know the host or guests in order to attend. Anyone can be a host of the circle and then work out the logistics with Hope to bring it to fruition.

What to expect at the Women's Empowerment Circle:
Each circle gathering will feature a relevant theme us women care about
Guided Meditations
Enlightening Personal Empowerment Exercises
Individual Sharing
Transformational Rituals
Brainstorming and Insights from the circle of women for your life
Walk away with Plans of Action
Group coaching, mindfulness practices, self-care spark
Post-Circle Notes and Assignments
Private Facebook Group to stay connected, support one another
Opportunity to create an accountability partnership, if desired.
* Below: Photos from various women's events produced and hosted by Hope McGrath: Visioning Parties, Girls Nights and more...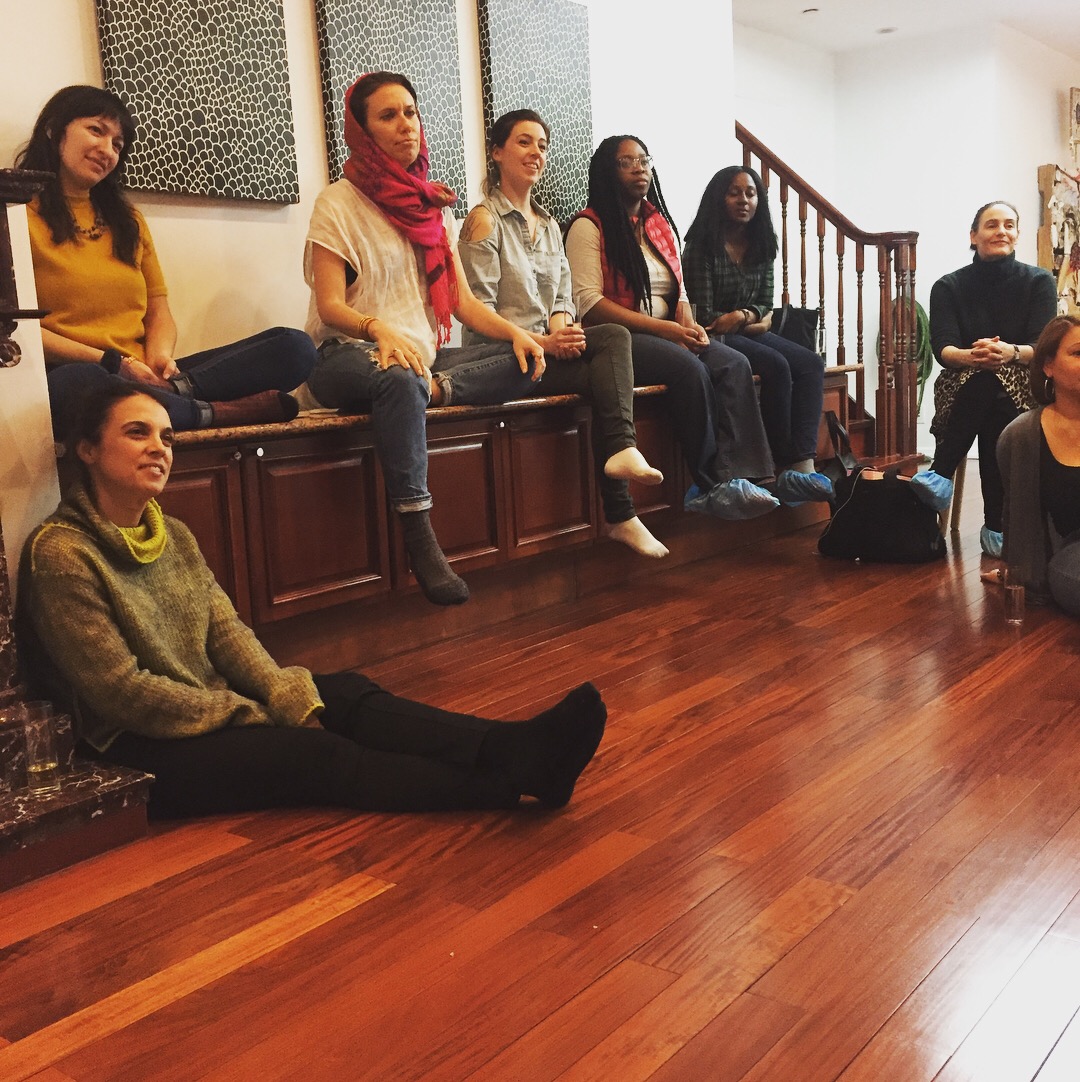 THE BENEFITS: major changes in life, love & work
Gain support for creative endeavors that you've been thinking about, but never did anything about it
Gain clarity and network connections to achieve goals —we've had new careers launched, acceptances to PhD programs, career skyrocketing, and new side projects launched
Transforming relationships - real talk about love, intimacy, break-ups, healing and change for the better is always the result. Do you need to end your relationship but are scared? Do you need to enrich your relationship? Do you desire to find a man? It all unfolds.
Healing through communication, whether is regarding family challenges, parenting issues, personal trauma…whatever you feel like sharing —- healing unfolds within the circle. I just does. Energy shifts, positive feedback, food for thought...it all evolves.
Make new friends and enrich your friendships
The specifics:
Step 1: One women takes initiative as the host.
Step 2: Hosts responsibilities:
Determine location…someone's home or private venue is best. (in the NYC Metro Area) No public restaurants.
The hosts are responsible for beverages and snacks or to orchestrate pot luck.
Gather a group of inspiring women that are into personal empowerment and open to connect
* If a group of women do not have a location to host a circle, just share that with Hope and she will confirm a venue in NYC or Brooklyn. (Fee will be adjusted accordingly)
Step 3: Confirm Date with Hope.
Gatherings are 3 hours long…Weeknights 6:00pm-9:00pm or flexible weekend hours.
Step 4: Invite Guests. Women's Empowerment Circle must be between 8 - 12 women.
Step 5: Each guest will receive a questionnaire to fill out and return back to Hope before the first Women's Empowerment Circle.

Commitment:
Circle meetings are recommended to take place once a month, starting with 4 months with an option to continue. Gathering every other month is an option as well. The more the circle stays consistent, the more fruitful the breakthroughs and transformations.
INVESTMENTS:
One Women's Empowerment Circle:
Investment: $40 per person
The Host gets one complimentary ticket.
INTRODUCTORY DEAL: $5 OFF each ticket for One Women's Empowerment Circle!
Coupon Code: CIRCLESAVINGS
Expires June 15th, 2018
Four- Month Women's Empowerment Circle Program:
Investment: $35 per person
Pay in Bonus - $120 (Save $40)
1 Circle meeting per month for 4 months. (with scheduling flexibility)
PRAISE:
I have been blessed to have strong friendships, be a part of a vibrant service-driven sisterhood, and spend my motherhood journey in an organization focused on the well-being of children. But, over the last 4 years the small group of women in my Mom's Empowerment Circle have enriched my life in ways that I never thought possible. This happens because unlike other groups where we gather around love, fond memories, tradition, or service to others, at MEC my personal and professional growth and development isn't tangential, it's central. Each month, as we move around our circle, each woman gets the benefit of having their unique challenges addressed, supported, brainstormed by every other woman present. Imagine a space where YOU are both the agenda AND the vehicle for the work. That's the power of my women's circle and Hope is the engine.
-Crystal Bobb-Semple
CEO/Founder, Plato Learning
Hope is committed to supporting the positive development of women. She's a pro at keeping conversations focused on topics that would move each women toward their goals in life. Taking action is more than a notion. Hope cemented the idea that writing down your thoughts, early and often, are key to ensuring activation of some of your biggest desires and dreams. Also, meditating or taking daily moments to be still can add another layer of peace and happiness to your life. These moments allow you clarity and focus especially for busy moms. After a Circle, I am ready to charge forward in life! Ready to incorporate new ideas that can help me get closer to specific goals in my life. Our circles can be described as a relaxing, refreshing, safe space.
Denise H., Sales Director
The original 'Mom's Empowerment Circle'....that spearheaded the idea...more women need this! It's time to spread the love. Introducing the Women's Empowerment Circles...not necessary to be mamas, just a desire to gather some girls to grow, nurture, heal and support one another to live our best lives.
Any questions? Email info@hopemcgrath.com